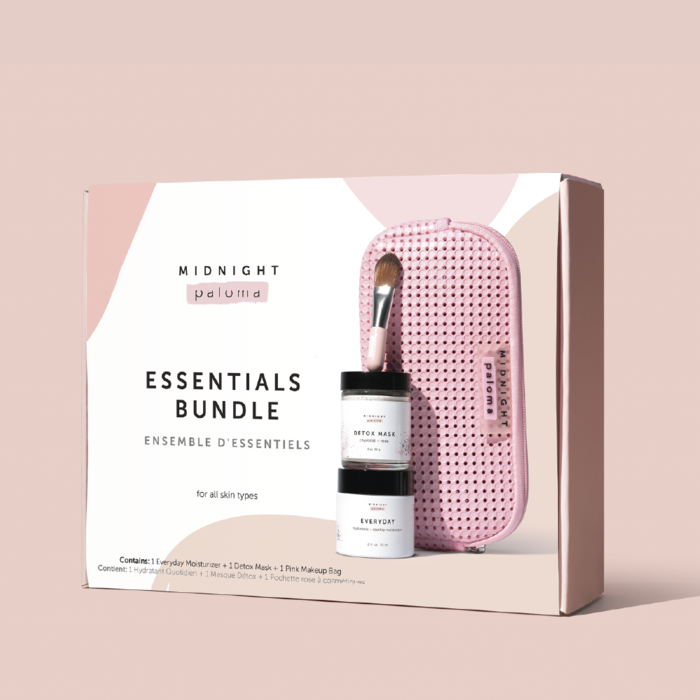 MIDNIGHT PALOMA
ESSENTIALS BUNDLE
*Valued at $90*
Hydrate + Detox. Our new Everyday Moisturizer nourishes leaving the skin dewy and smooth. Paired with our weekly use Detox Mask, that you can customize for keeping skin toned and fresh.

Products Included:
*New* Everyday Moisturizer 4 oz., Detox Mask 2 oz.,
Mask Applicator + Pink Travel Bag
EVERYDAY MOISTURIZER
Series: The Skincare Collection
Benefit: Hydration
Hero Ingredient: Hyaluronic Acid + Rosehip Oil
What Is It?
The daily moisturizer that we all need. The blend of hyaluronic acid, rosehip and jojoba oil is the perfect weight for daily use. It absorbs quickly leaving skin feeling dewy, smooth and firm. 24hr moisture that won't feel heavy with makeup. 
What Will It Do?
The blend of natural oils and hyaluronic acid will leave the skin dewy and smooth. Your skin will feel softer to the touch as pores are tightened, and acne scars are diminished.
What Makes It Special?
Hyaluronic acid is not just a trend, it's one of the best skincare ingredients you can use. It works overtime holding on x1,000 its weight in moisture making it perfect for your go-to moisturizer. Hyaluronic acid protects, plumps and hydrates, leading to visibly smoother skin. 
Jojoba Oil is rich in beauty boostin vitamin A, E & D plus has remarkably similar properties to our skins natural oils. This makes it penetrate all the way through the skin's layers taking its nourishment with it. We paired it with Rosehip Oil for an intensely restorative combo
Rosehip Oil is full of natural fatty acids and antioxidants. This means it helps our skins own cell regeneration process. The result is bright, smoother skin with visibly fewer fine lines.
Who Is It For?
Anyone who finds their skin needs a pick-me-up. If you find your skin looks dull, or tired, or if acne has left its mark, this will help. Everyday works for all skin types. The formulation is light enough for oily skin types while the hyaluronic acid nourishes dry skin. We recommend a pea-sized amount for oily skin types, dryer skin may need a bit more or an extra hydrating step like our Face Oil. 
How long will it last?
This daily use moisturizer lasts on average 8 months with regular use.
4 oz. 
DETOX MASK
Series: The Skincare Collection
Benefit: Detoxification
Hero Ingredient: Charcoal
Our first product and best seller!
Tailor your mask for your skin needs. Our all natural charcoal mask is your skins best friend when it comes to keeping it detoxified. Our hero ingredient charcoalabsorbs impurities and acts like a magnet to draw out dirt from pores.
2 oz. Glass Jar
Purifying + Detoxifying
Clearing
Smoothing
---
More from this collection