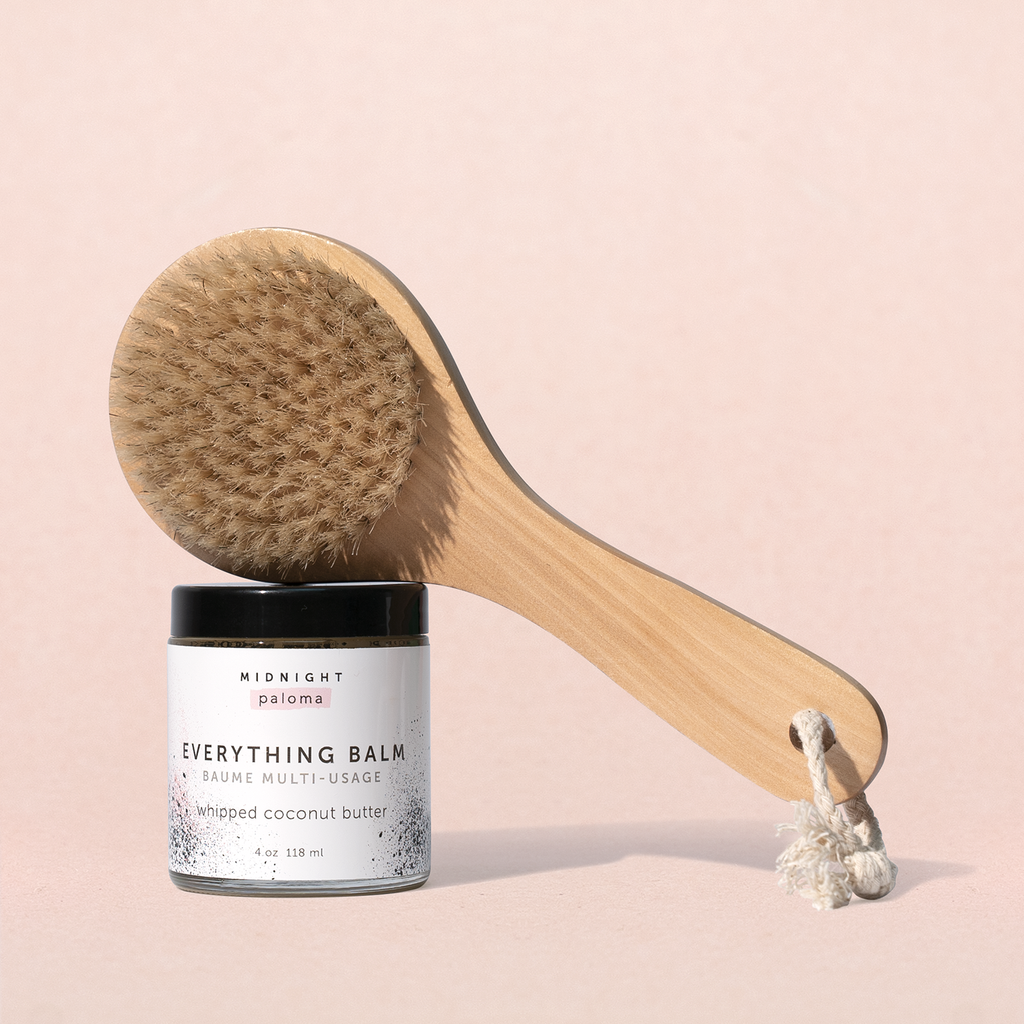 MIDNIGHT PALOMA
BODY BUNDLE
Series: Exfoliation + Hydration
Benefits: Detox, Hydration + Circulation Boost
Scent Story: Blood Orange, Lime, Vanilla + Grapefruit
Includes: Everything Balm + Dry Body Brush
Give your skin the best exfoliation + glow with this all natural duo. Start with our Dry Body Brush. On dry skin, brush upwards towards your heart to boost circulation, energy and gently exfoliate before the shower. After, dry off and apply our nourishing Everything Balm. Rich in coconut butter, shea butter, rice bran oil and rosemary extract this nourishing balm melts into the skin with contact and its non-greasy formula is the best for providing a glow. Not just for your body! Use all over: cuticles, elbows and face.
Hot Tip! Use the Everything Balm at night on your dry cuticles/hands to wake up hydrated in the a.m.
Bundle includes 1 Everything Balm (4 oz.) + 1 Dry Body Brush
WHAT IS LYMPHATIC DRAINAGE?
The lymphatic system is a major part of the body's immune system. It is responsible for ridding the body of toxins through lymph fluid. When lymph fluid is built up under the skin it can cause tired, puffy looking skin. Many of these lymph vessels run just below the skin and dry brushing regularly can help stimulate flow, helping the body to detoxify itself naturally.
For Acne: When there is a lot of inflammation on the skin or under the skin's surface - ie cystic acne - our lymph nodes swell. This happens because they are acting as a factory that produce and store white blood cells and immune cells that create a defense. Dry brushing will help move lymph along the channel and clear up any excess white blood cells and inflammation near the cystic lesions - helping them to shrink faster, and reduce pain.
The great news is that all our these tools will help promote and boost your lymphatic drainage which is a great helper in better skin health!
HOW TO: BODY DRY BRUSH
Skin Type: All
How Often: Morning - pre-makeup


Step 1 - Take the brush from the top of the temple & brush downward over the neck.
Step 2 - Brush up forehead, down the center of the nose & light circles over eyes.
Step 3 - Stroke down the cheeks towards the chin then across the cheek towards the temple.
Step 4 - Sweep up the jawline towards the ear. Then pull down the neck. Follow with Face Oil.
HOW TO: EVERYTHING BALM
Skin Type: All, dry especially
Smell: Blood orange, vanilla + lime
How Often: After dry brushing or post shower
How Much: A little goes a long way


Multi-purpose! Use on: face, hands, body, feet & cuticles
Everything Balm
Ingredients/Ingrédients: Coco Nucifera (Coconut) Oil, Butyrospermum Parkii (Shea) Butter, Oryza Sativa (Rice) Bran Wax, Sorbitan Olivate, Cetearyl Olivate, Oryza Sativa (Rice) Bran Oil, Theobroma Cacao (Cocoa) Seed Butter, Silica, Vanilla Planifolia (Vanilla) Oil, Citrus (Aurantiifolia) Lime Oil, Citrus Paradisi (Grapefruit) Oil, Citrus Sinensis (Blood Orange) Oil, Pelargonium (Geranium) Oil, Phenoxyethanol and/et Ethylhexylglycerin.
---
More from this collection